SATURNINA RIZAL: The Hero's Second Mother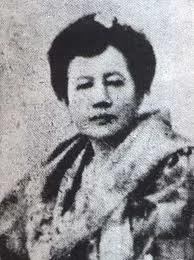 Saturnina Rizal
(1850-1913) is the eldest child of Don Francisco and Teodora Alonso. She and her mother provided the little Jose with good basic education that by the age of three, Pepe already knew his alphabet. The first time Jose experienced to ride a
casco
(a flat-bottomed boat with a roof) was when he and his father visited Saturnina at the La Concordia College in Manila.
Saturnina had always been a loving 'Ate' Neneng to Jose. When their mother was imprisoned, Saturnina brought the young Jose to Tanauan during the summ
er vacation of 1873 just to cheer up the sad little brother. On his way to Marseilles in May 1882, Rizal—perhaps missing he
r '
ate'—
dreamed that he was traveling with Neneng and that their path was blocked by snakes.
On September 26, 1
882, Neneng offered a diamond ring to Jose, worrying that he had no sufficient money to spend. In June 1885, Saturnina and her husband sent one hundred pesos (P100) to Jose as their contribution to Jose's expenses in finishing his doctorate degree.
Saturnina married Manuel Timoteo Hidalgo of Tanauan, Batangas. Hidalgo was also close to his 'bayaw' Jose as the two kept up a correspondence. Through a letter, Hidalgo once informed Rizal of a cholera case in Manila in 1885 and requested Jose to buy for him a Spanish book by Rousseau. For allegedly being a conspirator and representative of Jose Rizal, Hidalgo also experienced deportation (to Bohol) during the so-called Calamba agrarian trouble.
Manuel and Saturnina had five children, all of whom had a name which began with letter A: Alfredo, Adela, Abelardo, Amelia, and Augusto.
Recent controversial story mentions Saturnina as being with her mother when the latter allegedly tried to poison Teodora Formoso, the wife of Jose Alberto (Teodora Alonso's brother).
The story further alleges that Saturnina and her uncle Jose Alberto were the real parents of Soledad, the supposed youngest sister of Jose.
In 1909, Doña Saturnina published Pascual Poblete's Tagalog translation of the Noli Me Tangere. Jose Rizal, on the other hand, immortalized his sister Neneng through the oil painting he made of her, which is now housed in theRizal Shrine in Fort Santiago.(
© 2013 by Jensen DG. Mañebog)
Jensen DG. Mañebog
, the contributor, is a book author and professorial lecturer in the graduate school of a state university in Metro Manila. His unique book on Rizal comprehensively tackles, among others, the respective life of Rizal's parents, siblings, co-heroes, and girlfriends. (e-mail:
jensenismo@gmail.com)
NOTE
To leave comments, click first the 'Like' button above (if you have not clicked yet).
Use the 'Share' button below or the 'Send' button above to invite friends to read this article.
Try our SEARCH ENGINE (upper right section) for your RESEARCH and other interesting entries.