NARCISA RIZAL: The Hospitable Sister of the Hero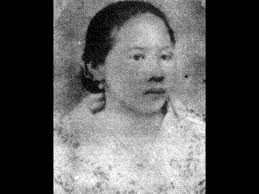 © 2013 by
Jensen DG. Mañebog
Narcisa Rizal
(1852-1939) or simply 'Sisa' was the third child in the family. Like Saturnina, Narcisa helped in financing Rizal's studies in Europe, even pawning her jewelry and peddling her clothes if needed. It is said she could recite from memory almost all of the poems of the national hero.
Narcisa was perhaps the most hospitable among the siblings. When Don Francisco and Doña Teodora were driven out of their house in Calamba, Narcisa took them in her house. It was with Narcisa also that Josephine Bracken once stayed, when the rest of Rizal's family were suspicious that Rizal's girlfriend was a spy for the Spanish friars. In August 1896, while being kept under arrest aboard the cruiser Castilla anhored off Cavite, Rizal thanked Narcisa, in a letter, for her hospitality in letting Josephine stay in her home.
It was also Narcisa who painstakingly searched for the place where the authorities secretly buried the dead Rizal. She found freshly turned earth at the Paco cemetery where a body had been buried without a box of any kindand with no identification on the grave. She wittingly made a gift to the caretaker to mark the site 'RPJ', Rizal's initials in reverse.Years later, Narcisa and her other siblings dug up the hero's remains at the spot.
Sisa married Antonino Lopez, a teacher and musician from Morong, Rizal. For letting the Rizal parents live in their house, Lopez became the target of Spanish persecution. He was threatened of deportation, his house was dismantled, and the unsecured belongings were confiscated.
Narcisa and Antonino had eight children. Their son Antonio (1878-1928) married his first cousin Emiliana Rizal, the daughter of Paciano Rizal by Severina Decena. Narcisa's daughter Angelica, who had visited Rizal in Dapitan, joined the Katipunan after her uncle's martyrdom.
In an interview by Ambeth Ocampo (p. 47), Narcisa's grandchildren revealed that their lolo, Antonino Lopez was actually the son of the priest Leoncio Lopez—the 'cura parroco' of Calamba from whom Rizal based the character of Fr. Florentino in his El Fili. Substantiating the disclosure, they explained that Narcisa and Antonino, after marriage, lived in Leoncio's parish house and Antonino inherited all of Leoncio's books and possessions when the priest died.
(© 2013 by Jensen DG. Mañebog)
NOTE
To leave comments, click first the 'Like' button above (if you have not clicked yet).
Use the 'Share' button below or the 'Send' button above to invite friends to read this article.
TAGS: Jose Rizal, Narcisa Rizal, Rizal's Sister/Sibling, History, Philippine Studies, Filipino Heroes; NARCISA RIZAL: The Hospitable Sister of the Hero
Try our SEARCH ENGINE (upper right section) for your RESEARCH and other interesting entries.